The Jigsaw Puzzle Tree - Angove, the Cornish Smith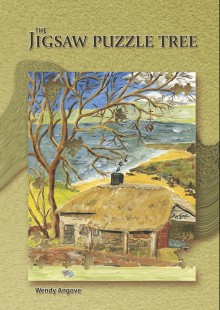 Cover of "The Jigsaw Puzzle Tree". Click on the picture to see a larger version.
Specially reduced price until the end of September. See below.
Have you an Angove in your tree?
There are fifty Family Trees concerning Angove families, in a book recently published called 'The Jigsaw Puzzle Tree - Angove, the Cornish Smith'.
The book is in three parts. The first ten chapters tell the story of the search for the Angoves who settled in South Wales, using many and varied sources. Having traced the family of John Sowden Angove back to Cornwall, some stories of colourful Angoves are included, together with their homes, mining interests and the 'gentry' Angoves.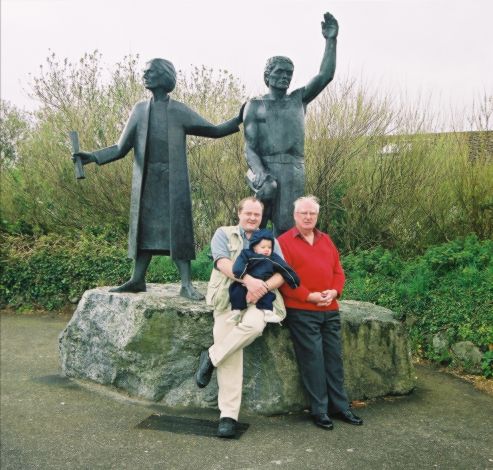 Thomas Flamank and Myghal Josep an Gof (the smith), leaders of the 1497 Cornish Rebellion, together with three of the "South Wales" Angoves.
(There's another picture here.)
In the second part, other jigsaw pieces are found which take the story back to 1296 and the first instance of 'Engove' used as a surname. Each chapter then moves forward in time, using documents and other sources, through the story of Michael Joseph an Gof of St Keverne, a chancery case, family movements within Cornwall, to the Dispersion to Australia, USA, Wales, South Africa and elsewhere.
Part Three, called 'Other Trees, Other Branches', gives some account of Angove families from the Lands End peninsula, from Gwinear, Redruth, and Falmouth; Angove occupations in 1881; and some mysteries yet remaining.
People and places are illustrated by photographs, both recent and historic, and there is an extraordinarily extensive index which has taken a great deal of time to compile.
How to get hold of a copy
Until the end of September 2005 only, the price of the book has been reduced to £12.00 (twelve UK pounds) plus postage. If you would like a copy of the book, please contact Wendy Angove at wendy@angove.demon.co.uk for details of postal charges and how to pay. Because of bank charges when changing currency we have local agents in some countries.
Research into Angove families has of course resulted in information about the families of wives and husbands of Angoves. Some of this is detailed and could be of interest if you are researching these surnames. Follow this link to find out more.
Research such as this is never really finished and since the book was printed I have gathered lots more information. Read about some of it by following this link. Contact me if you have any more information to add!
Rather fullsome, but gratifying nonetheless. Follow this link to read Wat Trelawny's praise for the book.
Just to whet your appetite even further, the book has a total of 304 pages, fifty pedigrees, lots of photographs and two comprehensive indices which total some 50 pages!
---
Return to my list of lookup books.
Return to the Pointless Pages.
---
Wendy Angove: wendy@angove.demon.co.uk