Welcome to my homepage
I am Wendy Angove, and I'm researching all Angoves everywhere, making lots of friends and doing some interesting historical research. I'm also collecting Goodlands in Somerset, Clissolds in Gloucestershire and trying to disentangle my family members from all the Davies, Edwards and Powell families in Wales!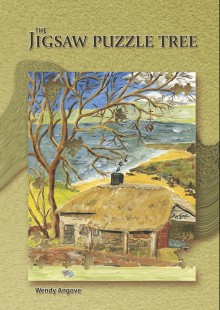 I have written a book detailing the discoveries I have made. Please follow this link to find out more.
During the nearly 20 years I've been doing this I've collected quite a few useful books which I'm willing to search if you've got stuck somewhere in the seventeenth century and want to move back into history. This offer was made through the Cornwall Family History Society some years ago and quite a lot of folk found it useful. I am not volunteering to do your research for you, simply to search my books. The more information (names, ages, births, especially places) you can supply, the easier it is.
I have started putting a brief idea of contents with the book names, because it is difficult to know what to ask for if you only have the book title! Please note that some of these books are primarily local history books, and therefore may not contain much 'family' information.
Many of the Indexes were compiled by volunteers in the various Family History Societies. If you have found useful information, please consider sending a donation to the relevant F.H.S.
At the moment (barring holidays) my turn-around is something of the order of a week. More lengthy or complicated requests may take longer and requests with insufficient information will eventually receive a response to that effect. None of this information is computerised, and some books have no index, so I cannot do "blanket requests" (eg "Can you find me all the Smiths in all your sources?").
If you are interested in a county on which I do not have information, you may like to peruse the list of other volunteers available in the County Volunteers (Lookup Exchange) website.
Here is a list of some of the books;
Devon
Worthy, Devon Wills.
Extracts from some wills.
Calendar of Wills held at Exeter 1540-1799.
The wills were destroyed by bombing, but the calendar gives names, places of residence and date of death/will proved. Indexed.
Exeter Freemen 1266 - 1967
All those admitted to the "freedom" of Exeter. Loads of people with occupations. Indexed.
Herefordshire
See also Herefordshire Family History Society at http://freespace.virgin.net/bruce.donaldson/
My name interests in Herefordshire are Gammon and Bengough.
Herefordshire Militia Assessments 1663
Registers of Munsley and Canon Frome
Visitation of Herefordshire 1569
Yesterday's Town - Hereford.
Some useful local and family history.
Duncumb, Herefordshire, 2 vols.
History and families of Hereford town and part of the county.
Wiltshire
Victoria County History, Wiltshire vol 7
Devizes Borough Annals 1555 - 1791
Borough history, council meetings
Wiltshire Extents for Debts 1300 - 1600
Names of debtors etc.
Wiltshire Tax List 1332
Wiltshire Feet of Fines 1195 - 1272, 1327 - 1377
Land transactions
Past people in Wiltshire & Gloucestershire, June Badenri
Some family histories
Wiltshire protestation returns 1641
Parish registers of

Southbroom St James (Devizes)
North Bradley

Visitation of Wiltshire
Pedigrees as given to the Heralds in 1623.
In Wiltshire I'm interested in Purnell and Bishop.
Somerset
See also Somerset F.H.S. http://ourworld.compuserve.com/homepages/Alan_J_Brown/
In Somerset I have information on Goodland and Poulett families.
Kirby's quest for Somerset 1284 - 5 (and other lists)
Lots of names and places. Indexed.
Directory of Somerset 1626 - 1674 (Dwelly, reprinted Harry Galloway)
Mostly exemptions from hearth tax. Indexed
Hearth Tax for Somerset 1664 - 1665 (ditto)
Names and amounts paid
Somerset Medieval Wills, Weaver
Extracts from Somerset wills 1383 - 1558. Indexed.
Parish Registers of Street 1599 - 1762
Certificate of Somerset Musters 1569
Names of those fit for military service. Indexed
Somerset Pleas 1272 - 1279; 1280; 1189 - 1257
Extracts of court cases. Indexed
Feet of Fines 1307 - 1377; 1377 - 1399; 1399 - 1461
Land transactions. Indexed.
Parish Registers of Wilton nr Taunton 1558 - 1837
North Curry, Olivey
Local history with family references. No index.
North Curry, Kirke
Continuation of the above
History of the town of Taunton, Joshua Toulmin
Published in 1791. History only
Somerset Protestation Returns 1641
The Ancient Borough of Bridgwater.
History
Sedgemoor and Avalon
Local history
West Country Manors, T.L. Stoate (ed.) 1525
Tenants etc. of Cecily, Marchioness of Dorset's lands. Dorset, Devises, Somerset, Cornwall
Visitation of Somerset 1531, 1573
Heralds pedigrees
Somerset Electoral Register 1832
Not indexed.
Gloucestershire
See also Gloucestershire F.H.S. http://www.compulink.co.uk/~rd/GENUKI/gfhs.htm
Rudders History of Gloucestershire. 1779.
Details of each place with lots of family information.
Bigland's Gloucestershire Collections
Loads of memorials from churches and churchyards
Taxpayers of Medieval Gloucestershire 1327, Peter Franklin
List of taxpayers (!)
Military Survey of Gloucestershire 1522.
All men able to fight.
Gloucester Inquisitiones Post Mortem 1236 - 1300; 1302 - 1358; 1359 - 1413; 1625 - 1642.
Enquiries held at the death of landholders as to who inherits the land. Indexed, name of deceased only, other names in text.
Recollections of Stroud, Fisher
local history, some families, indexed
Men and Armour for Gloucestershire 1608.
List of men aged 16-60+ giving occupations, stature, and approximate age.
Historical Records of Bisley, Rudd
detailed local and family history, lots of will extracts etc, list of wills of Bisley residents. Indexed.
Chronicles of Shortwood
history of the Nailsworth area and Shortwood chapel. No index.
Michinhampton and Avening, Playne
Local history, some families. Index not complete.
Painswick, F.A. Hyett
Local history, some families, list of wills, indexed.
Visitation of Gloucestershire 1682/3
Heralds ascertaining the pedigrees of those holding Arms
First 5 volumes of Gloucester Notes and Queries.
Lots of information but poor index.
Parish Registers

Dymock, 1538-1790, baptisms, marriages, burials. Indexed
St Augustine the Less, Bristol,1577-1700, baptisms, marriages, burials. Indexed

Marriages only - none of these are indexed!
Kings Stanley, 1573-1812
Owlpen, 1687-1837
Quedgeley, 1559-1836
Rendcombe, 1566-1812
Swindon, 1638-1837
Forthampton, 1687-1812
Nimpsfield, 1679-1812
Slimbridge, 1635-1812
Painswick, 1547-1812
Kingscote, 1652-1812
Cam, 1569-1812

Bristol Marriage Licence Bonds 1637 - 1700
Gloucestershire Wills 1541-1650, Indexed
Gloucestershire Wills, 1660-1800, index for A-Gr only.
Some 1851 census transcripts by Glocs FHS
Electoral Roll 1832 Gloucestershire
Information on CLISSOLD and WORKMAN families.
Cornwall
See also Cornwall F.H.S. http://www.cfhs.demon.co.uk/Society/
Earldom of Cornwall's Accounts 1296
In Latin. Lots of names and those paying fines etc.
Richard Carew of Anthony's Survey of Cornwall, 1620
Caption of Seisin of the Duchy of Cornwall; 1337
Landholders and tenants
Index to Cornish Nonconformist Registers held at the Public Record Office
Cornwall Manorial Surveys, T.L. Stoate
Cornwall Military Survey 1522
People to be taxed and their armour etc
Tinners Muster Roll 1535
People in the mining industry able to fight.
Visitation of Cornwall 1620
Heralds investigating pedigrees of those holding Arms
Cornwall Subsidies 1524 and 1543
Lists of those to be taxed
Cornwall Protestation Returns 1641, T.L. Stoate
The Protestation Returns were taken in 1641-2 depending on area - I suppose it took more than a year. It was a collection of signatures or 'marks' if they couldn't write, from people loyal to the King and the Church of England. Those who were ardent Roman Catholics were called Recusants and of course didn't sign.
Parish Register Transcripts:

Camborne; 1537 - 1812, births, marriages, burials. No index.
I have been asked by the Chairman of the Cornwall Family History Society not to offer lookups using material produced by the CFHS. I do not fully agree with his reasoning, but for now I have withdrawn this material.
Redruth; 1560 - 1716, births, marriages, burials. Indexed.
Gulval; 1595 - 1812, births, marriages, burials. Indexed.
Madron; 1592 - 1715, births, marriages, burials. Indexed.

A number of Cornwall FHS transcripts, marriages from Phillimore, marriages 1813 to 1837 and burials 1813 to 1837.
Please see the note above and in the introduction
Complete 1851 Census Index by New Zealand Genealogical Society.
Gives names, ages and folio numbers.
Some complete 1851 transcripts by Ray Woodbine. Mostly North Cornwall.
Cornwall Gazeteer 1817
Return of Owners of Land 1873
Cornish Glebe Terriers 1673 - 1735
Lands held by the church. Names of lots of people.
Cornish history / local history
A History of St Ives, Lelant, Towednack and Zennor, J.H.Matthews.
Lots of information from local records, history of local families.
The History of Helston, Spencer Toy.
History of the manor, in Parliament etc, also history of some local families.
History of the Borough of Liskeard, John Allen.
Local history, no index.
Liskeard and its people, Bernard Deacon.
More recent local history
St Breock and Wadebridge, James West.
Indexed
Other similar histories of:

Padstow
Mounts Bay
Falmouth
Vale of Lanherne
St Just
Penzance to Lands End
Carn Brea
Wadebridge and Egloshayle
Illogan
Breage with Germoe
Constantine
Gwennap
Cury and Gunwalloe

Tudor Cornwall, A.L.Rowse.
History with lots of family information too.
Sir John Maclean's History of Trigg Minor
includes many detailed family histories and pedigrees.

St Breward (Part III)
Egloshayle (Part IV)
St Endellian (Part V)
Forrabury and Minster (Part VI)
St Teath and Temple (Part XII)
Tintagel and Trevalga (Part XIII)

History of Cornwall, Davies Gilbert, 4 volumes.
Indexed, local and family.
Mining

History of Tin Mining and Smelting in Cornwall, D.B. Barton
Cornwall's Central Mines, Northern area.
Mine descriptions, history, indexed.
History of South Crofty, J.A.Buckley, indexed
East Pool and Agar, Phillip Heffer, no index
St Ives Mining District, Cyril Noall, mines history, no index
Mines and Miners of Cornwall, A.K. Hamilton Jenkin.
Complete set, mostly mine history, unindexed.
The Harveys of Hayle, Edmund Vale.
History of the engineering family.
The Vicar of Morwenstow, S Baring-Gould
Cornish Engineers, history of Holmans family and firm.
My name interests in Cornwall are Angove and Sowden
Wales
I have many local history books for

Senghenydd
Caerphilly
Penarth
Aberystwyth
Tredegar
and other places!

Registers of St Augustine's, Penarth
1851 census transcripts for some places in Glamorgan

Aberdare
Swansea
Cardiff
Cadoxton (Neath)
Bridgend
In Wales my name interests are Powell, Davies and Edwards.
If you would like me to search these sources, or would like to correspond with me on other related matters, use the address below...
---
Wendy Angove: wendy@angove.demon.co.uk
---
Return to the Pointless Pages, click here.