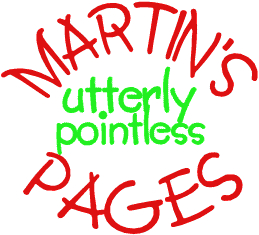 Welcome to my Pointless Pages
Having been unceremoniously disconnected by BT and by Demon, my ISP of nearly 13 years (how many of you had even heard of the internet in 1996?), here we are again at a different - and hopefully permanent - address.
I'm not putting much up for now, just this holding page and a link to information about my mother and her research. I'll get the Virtual Tour of the Aber Valley back up shortly, maybe updated slightly, and we'll see where we go from there. In the meantime, please feel free to contact me at the address below if you really have nothing better to do.
Yours,
Martin
My mother, Wendy Angove, has written a book about the Angove family history. Read more about it here.
---
Martin Angove: martin@angove.org.uk